One of the unique qualities of NightRider jewelry can be found in pieces that feature gemstones. There are a few different ways in which we incorporate stones. For example, a single stone can be used as a decorative accent; a skull may have stones for eyes; or multiple stones might be set together in a pattern. Some pieces come standard with stones; with others we offer them as an option. We can also add stones to custom pieces.
We only choose stones that have the highest level in grade, appearance and quality. Many stones we use are unique in size and shape because they are custom cut to match their setting, the part of the jewelry that holds the stone in place. Depending on the stone's location, the setting is created using one of two methods: prongs; or a bezel around the stone. Matching the stone to the setting provides the most attractive appearance and a precise fit, ensuring the stones remain intact and don't fall out during normal everyday wear.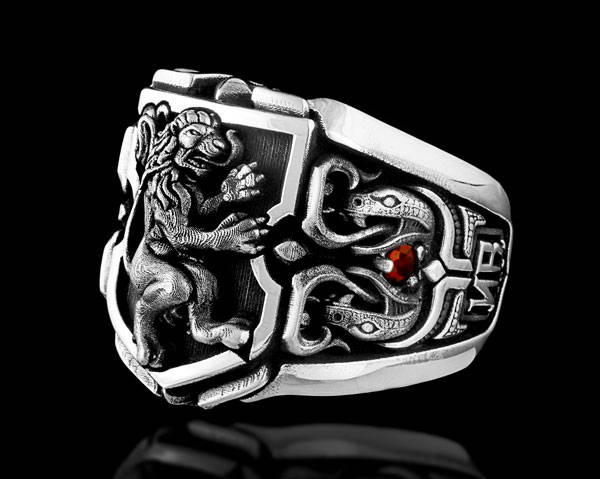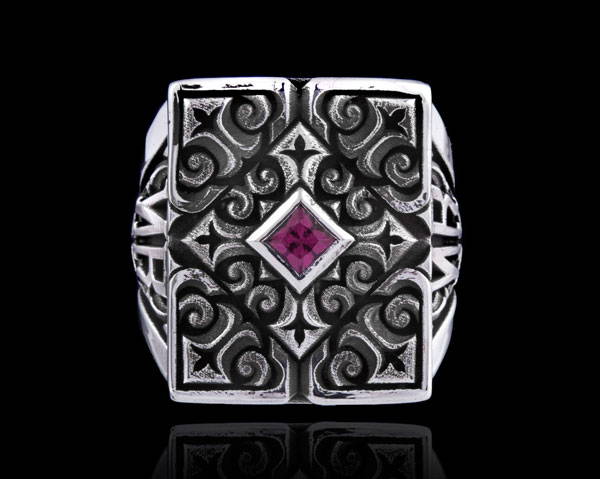 (L) Prong setting; (R) bezel setting
Stone settings are determined in the early stages of jewelry design and production. When the wax mold is being built, a hole—referred to as housing—is made for the stone to rest in. By building the housing in the wax, this assures that when cast in metal the piece will afford a strong setting for the stone. Many NightRider customers have requested to put stones in their own finished NR pieces; however, we are unable to do so because the piece wasn't originally constructed for stone placement. In order to properly support stones, the setting needs to be in place from the beginning.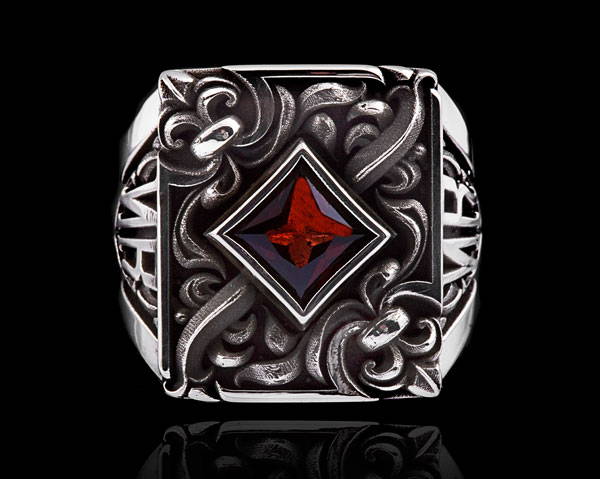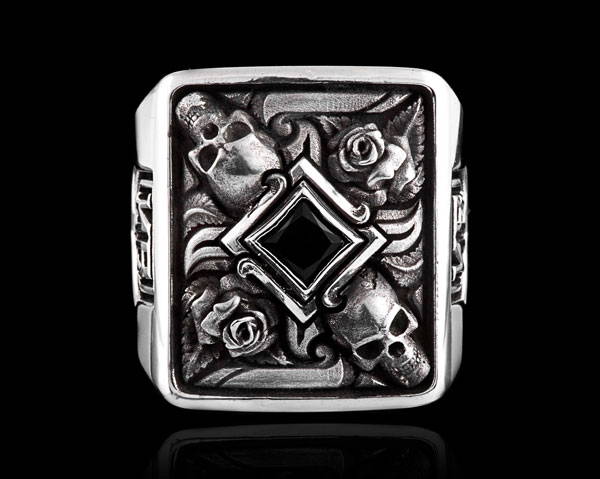 (L) Red garnet, (C) moissanite, (R) black onyx
The NightRider Collection is manufactured with .925 sterling silver. When selecting stones for a NightRider piece, one thing to consider is that precious stones (e.g., diamonds, rubies, emeralds) are not typically placed in sterling silver. This is due to the fact that silver is a much softer alloy than gold. Over time, the silver can wear down and the setting has the potential for failure. In this situation, a stone may come loose or even fall out. It is for this reason that the stones we offer to set in our sterling silver line are garnet, moissanite, and black onyx.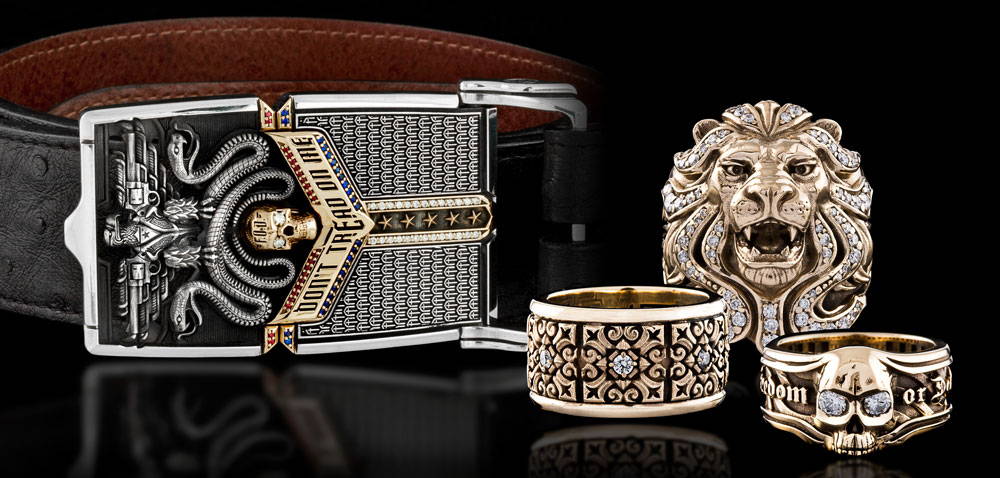 Jawbone Collection
While silver is able to support certain stones, gold is much tougher and is able to hold precious stones like diamonds and rubies—which you will find in the exclusive Jawbone Collection. When it comes to diamonds, we use a range of sizes depending on the piece. When selecting smaller diamonds, NightRider only uses melee diamonds graded VS in clarity and F+ in color. Melee diamonds are diamonds with a carat weight of less than .18. The majority of our pieces for which we have diamond applications fall under this category. Most melee diamonds found in other jewelry are of much lower quality and are valued at a fraction of the ones we use. Even with our larger diamonds, we have a minimum requirement of VS in clarity and G in color.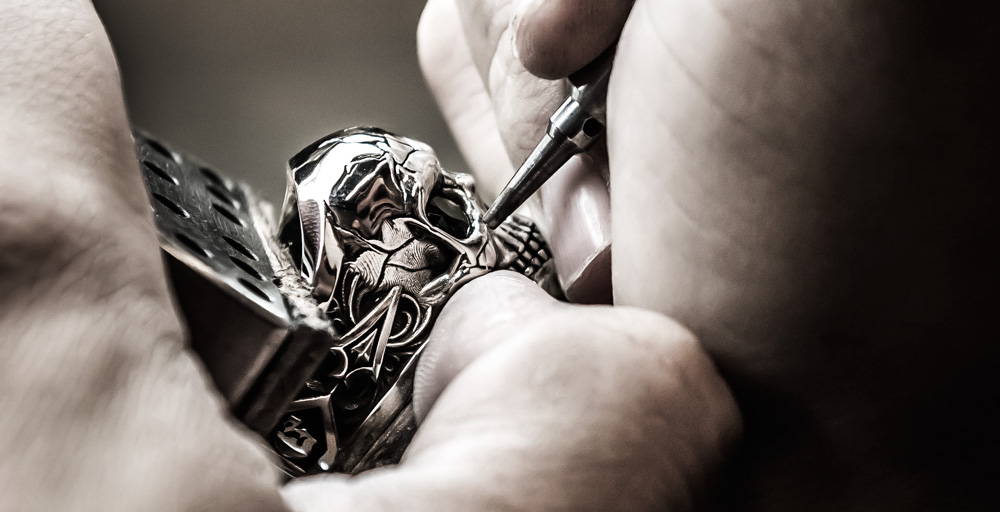 Stones are set by our jewelers at the very end of the finishing/clean-up process. Great skill is involved with setting stones and it is a very tedious and precise process. Our jewelers are highly trained and experienced to match up the stone exactly with the setting so that it lies just as it should. Applying the prongs or knifing over the bezel is a very delicate procedure where the jeweler is required to have a firm hold, but at the same time not move or scratch the face of the stone with any of the many tools with which they are working. Even after completing the setting, they must be very careful not to scratch the stone in any of the remaining steps of polishing. Stone setting is a skill that is developed over time and something we go to great lengths when teaching our jewelers.
It's important to us that the stones we use are a reflection of the high level of quality and precision used throughout our processes, as well as our overall approach of only using the best materials and never compromising on any level. Including gemstones in your NightRider piece not only adds an additional element of color, personality and mystique; it serves as a statement that you don't settle for anything but the best.
By Thad Ballantyne,
Head of Production