Make it a NightRider Christmas

.
The best gifts? The most unique gifts? The ultimate Holiday gifts? Those don't come off an assembly line. They're handcrafted by folks who are passionate about their craft. We strive to make the best American-made sterling silver jewelry out there—so that you come out on top as a gift-giving rock star every time.
This year, order early and make it a NightRider Christmas!
2023 Holiday Ordering Deadlines
Need it by the holiday? We've got you covered. Here's what you need to know to get those gifts delivered by December 24th, 2023.
Orders placed BEFORE December 6th will ship in time for Christmas delivery.
Orders placed AFTER December 6th: Please call to confirm item availability & shipping options.
What Gift to Give the "Hard to Buy For" Man?
Ladies, here's the lowdown: the trick is to get him something he'd never buy for himself. It's that simple. Buy himself jewelry? No way! But no worries, our Men's Holiday Gift Guide has just what he's been dreaming of. Cool guy gifts that are a perfect addition to his EDC? It doesn't get better than that!
RINGS
An exceptional sterling silver men's ring should both mean something and stand for something. Whether he loves bold biker rings or has his own one-of-a-kind style, there's a handcrafted silver ring that speaks his language.
Sometimes, less is more. The Conviction Band has a classic elegance that speaks for itself; it's about rising above all of life's adversity and focusing on what's really important. The Conviction Band signet ring makes the perfect holiday gift for anyone who could use a daily reminder that faith is their foundation.


PENDANTS & CHAINS
The perfect solid sterling silver necklace pendant can tell his story without saying a word. Pair it with a 24" or 26" 925 silver chain, and he'll never walk out the door without it.
Do you have a NightRider superfan in your inner circle? If so, the Legacy Pendant makes a can't-miss choice for a holiday gift. This sterling silver American eagle is all things NightRider, distilled down into a single silver pendant. It tells the NR story from the classic Guardian skull to the Royal Blood Lion and beyond.


BRACELETS
Most guys don't think of wristwear beyond watches, but this staple of every man's wardrobe never fails to make an impression. With a signature men's silver bracelet, he'll convey both confidence and style.


BUCKLES & BELTS
Need to pull out all the stops for his gift? This is it. Pair a solid sterling silver belt buckle with one of our exotic leather belts, and you have the ultimate gift that'll leave him speechless.
Looking for the Best Christmas Gift Ideas for Her?
Guys, jewelry gifts are a slam dunk every time. But you already knew that, right? Whether it's a ring, bracelet, or pendant, our Women's Holiday Gift Guide makes it easy to impress the most important ladies in your life. Silver jewelry that's handcrafted just for her? That's the ultimate stocking stuffer!
RINGS
She's a force of nature. Doesn't she deserve a ring as bold as she is? Choose a sterling silver ring that reminds you of her, and it's a good bet she'll love it!


PENDANTS & CHAINS
Here's an awesome gift if you're not sure of her size: a stunning women's silver pendant and chain combo that's sure to bring out her inner goddess.
Medusa had a bad rap. These days, she's a universal symbol of feminine strength, resilience, and grace under pressure. That sounds like a whole lot of women we know! And if you're still wondering what to get that fiery woman in your life…the Patrona Medusa Pendant is a top pick. (And you don't have to worry about sizing!)


BRACELETS
This may be the perfect Holiday gift for her: a chic and stylish sterling silver bracelet will let her know that she's still as stunning as the first moment you laid eyes on her.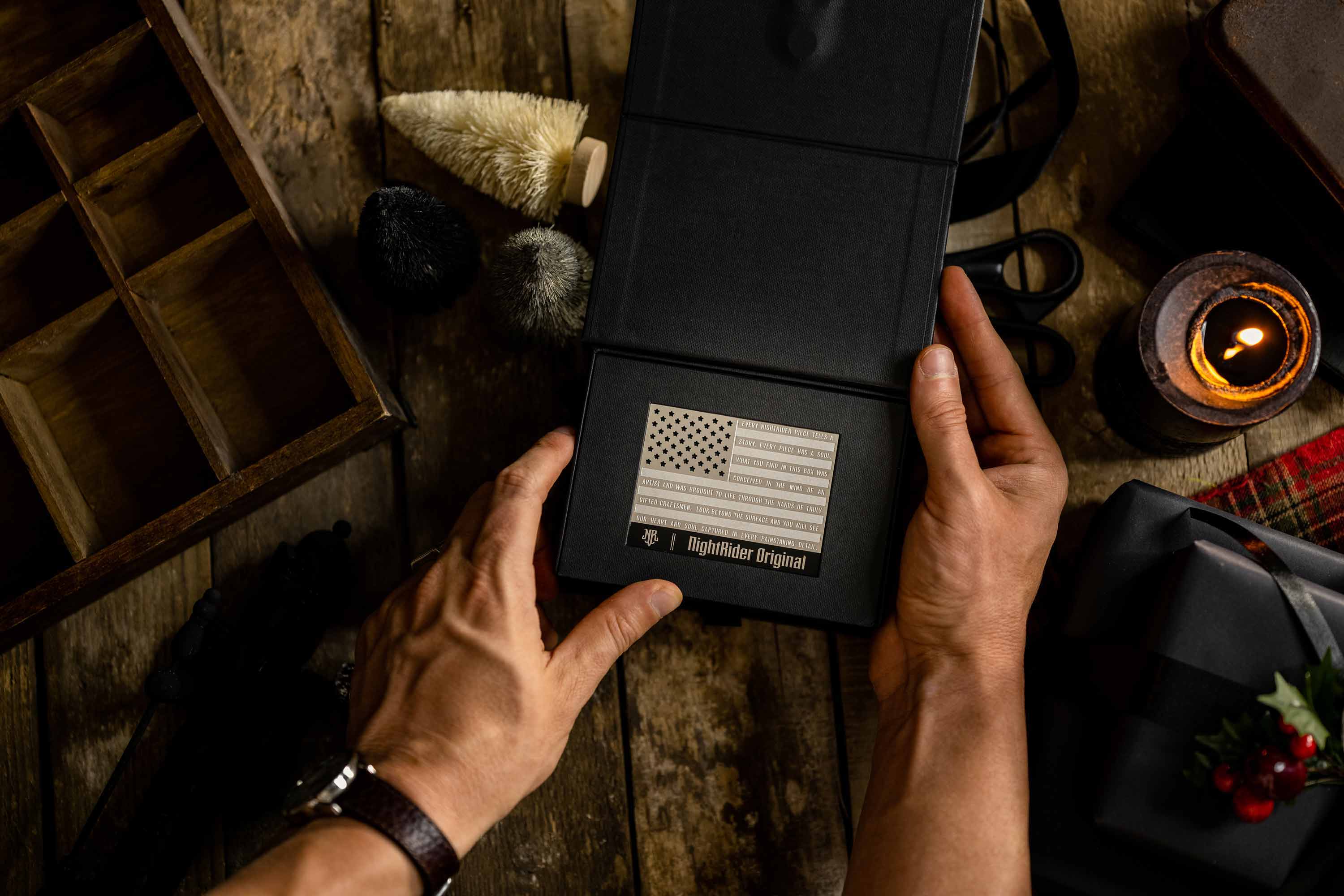 WANT TO KNOW IF AN ITEM IS IN STOCK?
Just get in touch with us using one of these methods and we'll be happy to check for you:
Every NightRider piece is handcrafted in the USA and comes packaged in a premium gift & storage box, which includes a protective pouch & polishing cloth, so your gift will look exquisite for years to come. Additionally, orders over $500 include Free Ground Shipping within the continental U.S.
For more gift ideas, visit our online store or stop by one of our retail locations to experience the collection up close and personal. We know you'll feel the quality in the heft of our items. Plus, we've got additional in-store gift ideas that aren't available online.
NightRider jewelry isn't just a great gift—your purchase supports American artisans and jobs. The entire NightRider team thanks you, and we wish you and your family a happy and safe holiday season. Merry Christmas!