ABOUT THE RALLY
For those of you who aren't familiar with the High Seas Rally, you haven't lived unless you've experienced it! I've had the opportunity to attend many motorcycle rallies throughout the years, and the High Seas Rally tops them all by being the most unconventional and exciting one out there. Imagine the most fun you've ever had at a rally and then multiply that exponentially—this is what you will experience at the High Seas Rally!
Your trip will begin by leaving your motorcycle ashore, boarding a world class cruise ship and then sailing through some of the world's top destination spots. Once on-board you will be surrounded by 2,000 of your closest friends, partake in nightly games and contests, explore exotic destinations and engage with the top motorcycle inspired companies— all while supporting an amazing charity.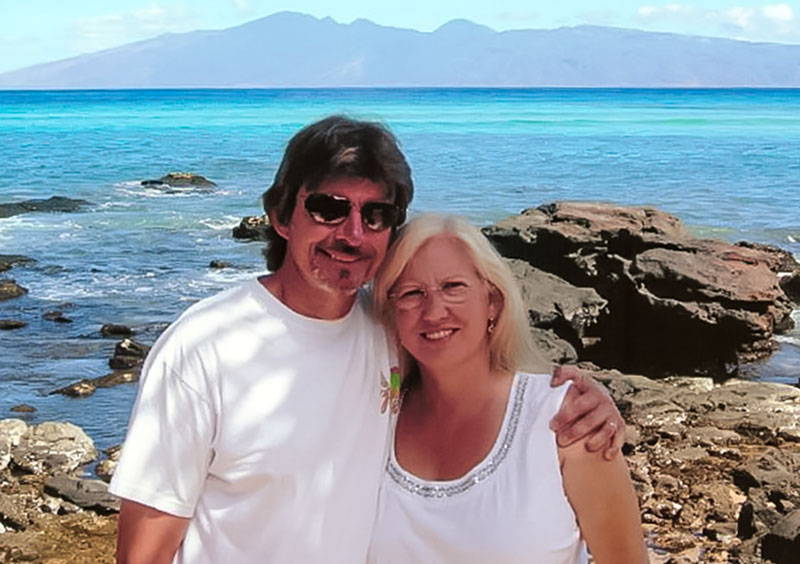 ITS FOUNDERS
The High Seas Rally was founded in 2003 by motorcycle enthusiasts Dean and Debbie Anderson. The couple had grown tired of the same old rallies they'd been attending for years and wanted to change the typical image of what a rally was all about. Together they set out to create a rally like no other—one that was all about camaraderie, quality entertainment, and first class destinations. On top of all the fun, the rally also fulfills Debbie's dream: to provide an opportunity to help others.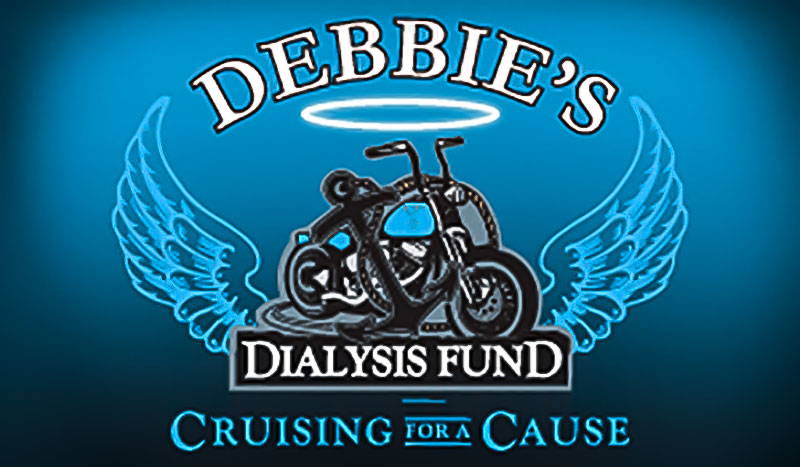 DEBBIE'S DIALYSIS FUND
The dialysis fund is the core of the High Seas Rally; everything about the cruise is structured to support it. Dean and Debbie created the Hogs on the High Seas Fund to raise money and give dialysis patients a once-in-a-lifetime vacation at no cost to them. On each cruise, up to 18 patients have all associated travel expenses, accommodations, spending cash, equipment and medical staff required to administer dialysis treatments on-board provided to them for free, thanks to money raised by the fund. Last year, following the passing of Debbie Anderson, the fund was renamed "Debbie's Dialysis Fund" in her honor.
THE NIGHTRIDER HIGH SEAS RALLY PENDANT
I was fortunate enough to attend the High Seas Rally for the first time in 2011 when NightRider was hand-selected to be an on-board vendor. NightRider received a warm welcome on the cruise, and we were instantly drawn in by the cause behind this event. This year, we wanted to do something special for the rally to help generate more money for Debbie's Dialysis Fund. After a few talks with Dean Anderson, we decided to make a pendant in honor of the High Seas Rally and the dialysis fund that his wife put her heart and soul into.
I met with our Lead Designer, Nick Ballantyne, and we came up with a plan of action. We chose to incorporate aspects from the High Seas Rally logo as well as the Debbie's Dialysis Fund logo—the skull and crossbones signify the rally, and the anchor represents the fund. Since these two organizations go hand in hand, what better way to support the fund than by blending Debbie's passions all into one piece?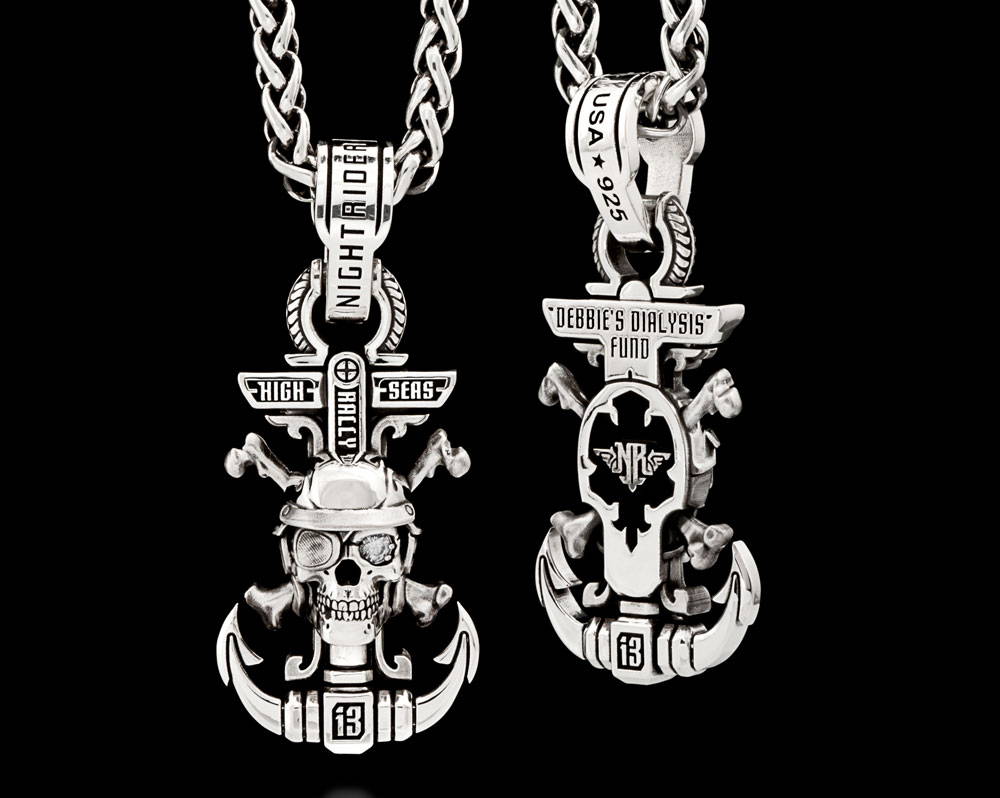 This piece is being offered exclusively to past and present High Seas Rally passengers. The pendant is cast in sterling silver with a red garnet gemstone in the skull's eye. We're also offering a few ways to make yours unique—custom options include: changing the inscription on the bail; several different stone options; a two-tone 14K gold/silver pendant; or my favorite option, which is a solid 14K gold & diamond Jawbone Collection pendant.
NightRider is extremely honored to make this exclusive piece for the High Seas Rally, and we didn't want to stop there. For every High Seas Rally piece ordered, NightRider will donate 10% of sales back to the fund! On top of that, the first 20 pre-orders we receive by October 29, 2013 will be available for delivery on the cruise ship, and we'll donate even more: 15% of pre-order sales will go to Debbie's Dialysis Fund! Please note that pendants with custom options will not be available for delivery on the cruise ship due to design and production time, however we will still donate 15% to the fund if they are pre-ordered.
ANCHORS AWEIGH!
If you're looking for a great excuse to take a vacation without all the hassle of planning every detail, the High Seas Rally is the way to go. Not only will you have an incredible time with tons of great people, you'll be contributing to a worthy cause and helping people who otherwise wouldn't have the opportunity to attend. I hope to see you there!
By Jared Jambor,
VP of Operations
Visit the High Seas Rally website