Introducing Aeonian, the newest addition to our ring collection. This ring's inception was a little different than most of the pieces we've created, so we thought it would be cool to share the story of how it came to be.
It began with an inquiry from Jen. She was interested in having a custom wedding ring created for Lee, her fiancé and longtime NightRider customer. Over the years, we've customized many of the rings in our collection for couples about to marry, usually with inscriptions of the wedding date, upgraded metals and gemstones, and perhaps the couple's initials. Jen, however, wanted to create something totally new, formed from her own ideas about the ring that Lee will forever wear.
The project was given to NightRider's Lead Designer, Nick Ballantyne. Working closely with Jen, he incorporated the symbols and feelings she expressed into a finished design. This process took shape over several weeks, with each iteration getting closer and closer to Jen's vision until everything was just right. Once the design was approved, it went to Nick's brother Thad, who cast the design in 14K white gold. The new ring was hand finished by one of NightRider's skilled jewelers, who carefully placed the diamonds in their settings and polished the white gold to stunning brilliance.
The ring was presented to Lee on their wedding night, and from what we hear, it was a huge hit.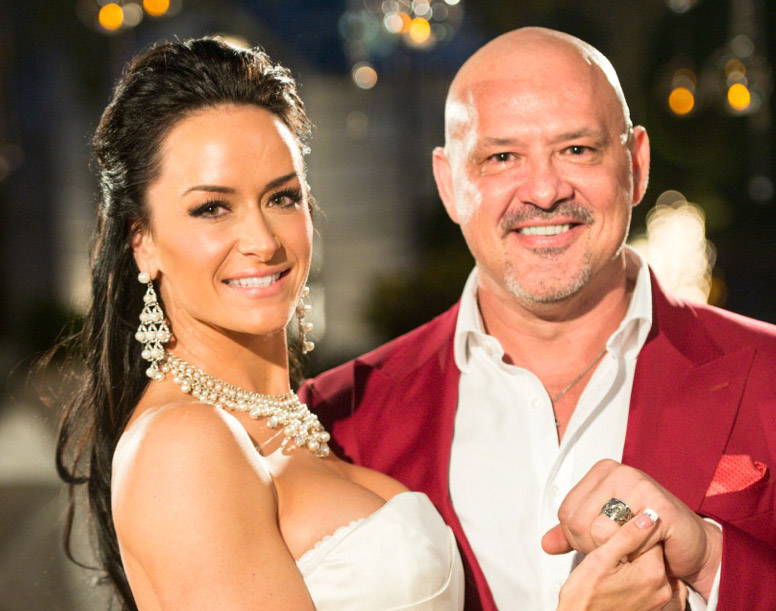 We asked Jen, Lee, and Nick for their thoughts on the process of creating Aeonian, and each of them provided us with a unique view from their perspective:
Jen (the Bride):
Marriage. Union of souls. Two becoming one. Forever after. Till death do us part. The kiss. The dress. The vows. The rings. These are all symbols and phrases that we know, get excited about, and long to experience when it comes to marrying the one we love.
When I met Lee, I knew there was something different—something amazing about him that set him apart. Although, I let him chase me a while before I was ready to admit that to him! Lee never stopped showing me his love, his devotion, persistence or tenacity. So naturally, I totally fell head over heels in love with him and said yes when he proposed to me in a hot air balloon with a beautiful engagement ring!
The day finally came for me to choose his wedding ring—yet everything was falling short. Nothing seemed to capture all that he meant to me. No ring on the planet brought him justice. I wanted him to be wowed and I wanted him to feel and to see what his love meant to me—that was when I turned to the artists at NightRider Jewelry. I gave them an entire page of things that were special to us—words, symbols, pictures, quotes and examples of what I wanted in the ring. How is it that guys get to have all of the fun picking out the girls' rings anyway? Why do we get to gush over our rings and have them tell a story—yet our men are left with plain rings that do nothing but leave a tan line? I wanted this ring, the one that would be on his finger forever, to be so special and symbolic that every time he looked down at it he would remember our love, our Lord and our love story.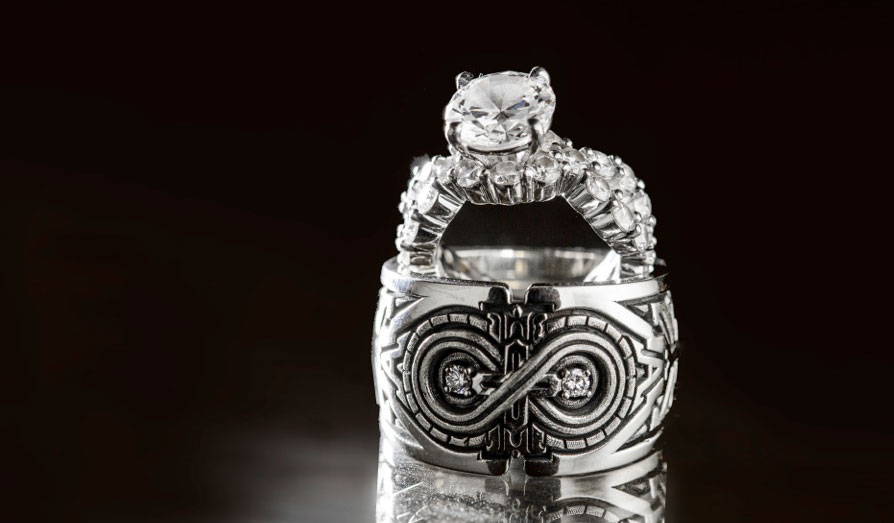 The bold infinity or figure 8 on the top of the ring symbolizes our infinite love. How we met as friends and followed the path to meet again as man and wife. The two diamonds symbolize husband and wife and the cross in the middle symbolizes Christ. On a human level, two (in marriage) is the highest form of unity we experience. How much better then, is God, who in his very nature is unbreakably three! This and the eternity braid symbolize that our love is woven together with Christ. It also ties to the verse inscribed in the inside of the ring:
"Though one may be overpowered, two can defend themselves. A cord of three strands is not quickly broken." —Ecclesiastes 4:12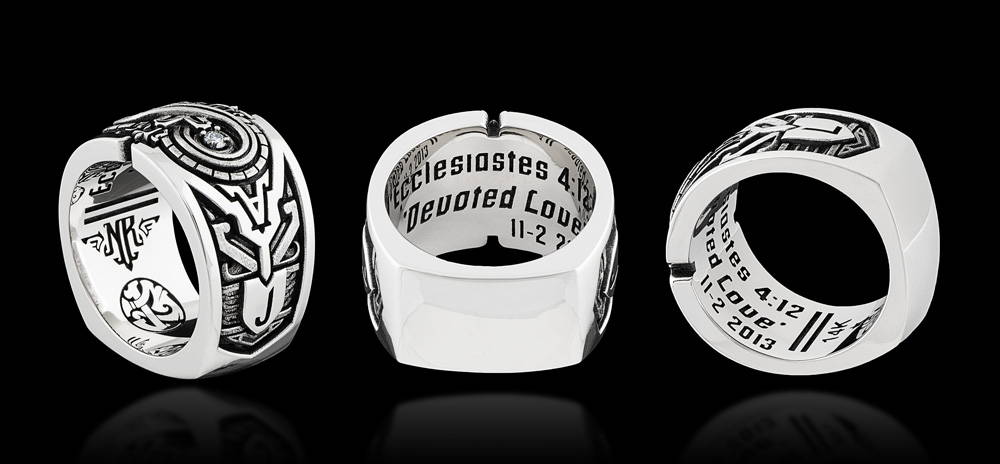 The Alpha and Omega, the Greek symbols in Christianity for God being the beginning and the end, encircles everything on the ring. This is meant to remind us both of God our creator, our savior, father and our rock.
In Revelation 1:8, John says that Jesus is he "who is and who was and who is to come" (cf. Rev. 1:4; 4:8; 11:17; 16:5). This is a peculiar title given to Jesus and one I believe encourages us to seek, to know, and live for him—as well as endure any hardship or trial that we may undergo.
Lee (the Groom):
As the man who pursued the love of Jen I learned that she was a woman of noble character—more than any other woman I had come to know in life. Jen simply stole my heart—she became my best friend, and now my wife. Our love simply flourished in the light of day, blessed by God, who is continuously at the center of our relationship. During our engagement, Jen was downright giddy with her selection of my ring. On our special day I had no expectation for my ring, other than it would come from her and be placed on my finger symbolizing our union. Jen has seen many of my pieces of "art", as I call the jewelry I have purchased from NightRider, over the years.
Jen and I did a reverse wedding, so our pictures were taken before the ceremony. She walked out to meet me with the ring in her hand. I had no idea of the creation she had dreamed up and then turned into art with the help of the NightRider team. She opened her hand and in her palm lay the most beautiful piece of jewelry I have ever laid eyes on. As I stared at the ring, tears began to run down my face without even knowing the story behind the symbols etched into the metal. Jen placed the ring on my finger and began telling me the story behind the design.
Wow, I had no words to describe the emotions I felt that instance. I was trembling with joy and crying with happiness.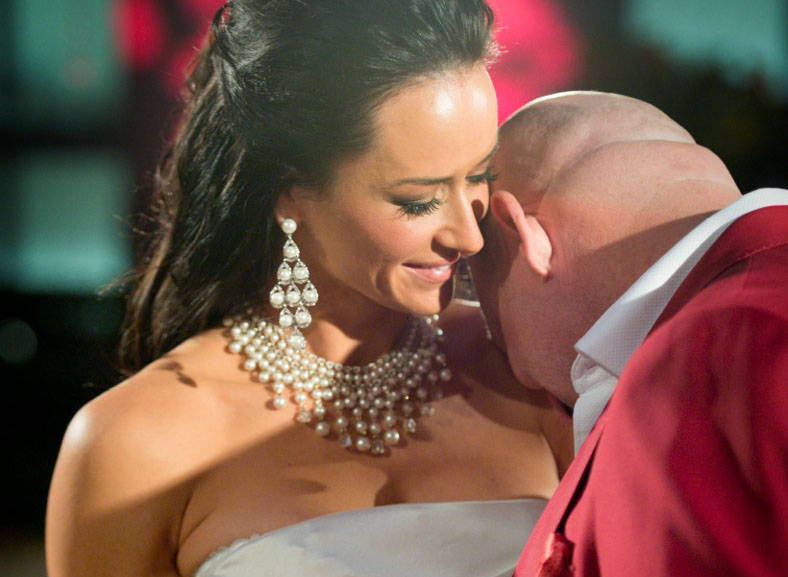 It was the most astonishing piece of jewelry I have ever seen and the most precious gift I have ever received. As a man, it is uncommon to be overwhelmed by most jewelry that you see being created as wedding bands, moreover to know that many like it exist. Jen and NightRider made our special day memorable with the creation of this priceless and timeless ring.
Nick (the Designer):
I immediately got excited when the ideas that Jen had for Lee's ring hit my desk. I could tell she had a lot of ideas, some very strong beliefs, and a truckload of emotion which she wanted all wrapped up into one man's wedding ring. Given how there are many wedding bands already in the world, and the fact that none of them seemed right to her, I knew it was going to be a challenge to build her the perfect ring—but it was one that I was eager to take on.
As an artist who relies on his art to make a living, I find myself in the same predicament that all professional artists do; create things that appeal to as many people as possible (the business mindset) or create artwork that is a window to the soul (the purpose of art). What I've realized is, the only time I am genuinely proud of things I create is when I ignore consumer demographics, metal weights and price points, and focus solely on communicating the emotions, beliefs, and ideas that I have inside. That is when my best work comes out, and Jen's ideas afforded me the perfect ball of clay for creating something meaningful.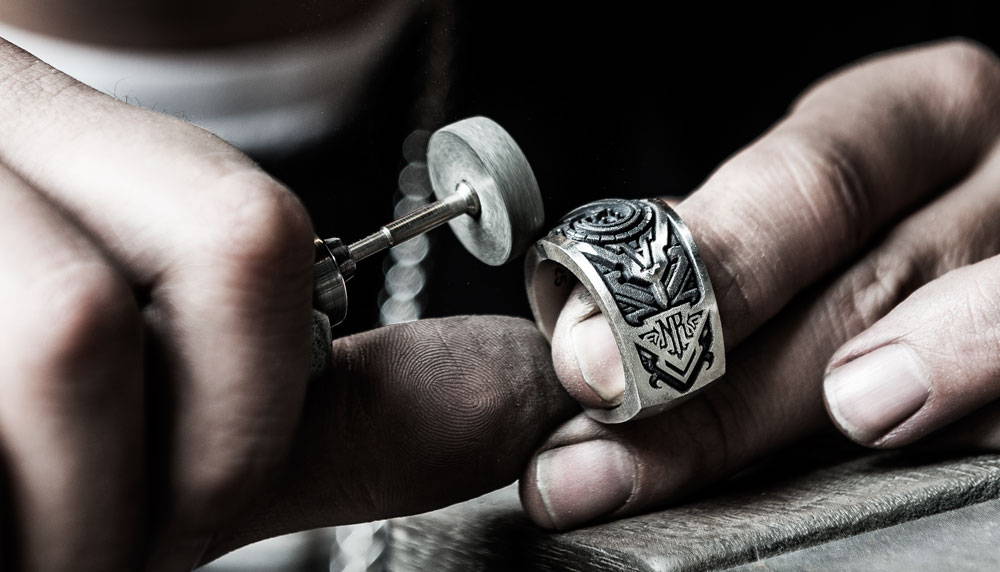 This also came at a very appropriate time in my life. Not long ago I experienced some deep soul searching and many experiences led me to my own definitive belief in God, the father, and our savior, Jesus Christ. So when Jen told me what she wanted, I was extremely motivated to help her communicate these beliefs because they are truths that I connect to very personally. Once I started designing the ring with her, I knew it was going to be incredibly meaningful for her and Lee—but I also wanted to share it with others. So with her help, we came up with two versions: a special one for Lee, and one that we'd offer as a unique new addition to NightRider's collection. Jen and Lee came up with the perfect name for the piece, Aeonian (Greek for eternal), and our Facebook fans sealed the deal with their votes. I couldn't be happier with the end result and working with them couldn't have been a more enjoyable experience. Their passion and enthusiasm is infectious!
Thanks a million to Jen, Lee and Nick for providing this glimpse into the process of creating a beautiful and unique custom wedding ring. The versions of the Aeonian ring that are available for purchase are below: