Feb 19th 2014
On The Cuff
Putting on your first pair of cufflinks is practically a rite of manhood. Perhaps your dad lent you a pair so you could impress your prom date. Or maybe they were a graduation gift from your grandpa. While the story about every man's first pair is different, one thing remains the same—cufflinks add the finishing touch to a dressed-up man's outfit, whether it's work wear or formalwear.
NightRider is proud to introduce our first-ever Cufflink collection. Crafted in the USA with exceptional quality standards and a lifetime guarantee, they're available in four different designs—Sanctified, The Guardian (Lion), The Guardian (Skull), and Aquila.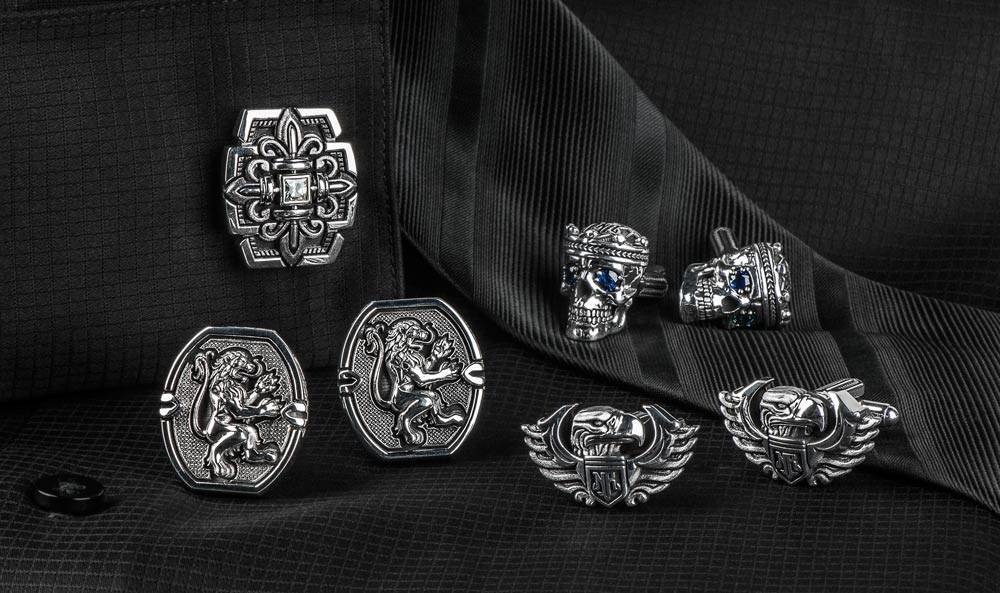 Our Lead Designer, Nick Ballantyne, set out to create cufflinks that not only look good, but stay true to NightRider style: "I wanted our cufflinks to make a statement about the person wearing them—bold, yet sophisticated. Coarse, but refined. For many guys, dressing up means leaving their individuality behind. Our cufflinks give you a way to carry your personality into your work day, a date night, or any occasion where you want to look your best and still be yourself."
One thing is for sure—these aren't your ordinary cufflinks. Cast in solid .925 silver, they're weighty, detailed and opulent. Designing the cufflinks presented a number of challenges for Nick: "Comfort and functionality are equally as important as style and design. For example, we tried several options for the fastening mechanism, and after testing them out, we decided that the swivel bar and post was definitely the way to go".
Another consideration was their size. Nick continued, "Despite the fact that they're comparatively large for cufflinks, working with a smaller canvas was an adjustment for me. The goal was to capture our signature attention to detail, while at the same time make them feel significant and ample. There's a balancing act with design work—in the end, the product should simply look and feel right."
NightRider cufflinks are the perfect gift for any man who deserves the best—for his birthday, anniversary, Father's Day, wedding, or just because he misses wearing his NightRider pieces when he's dressed up. Available online and at select retail locations. Check out all four designs—click the images below to view full product details: