NightRider Jewelry is known for our high standards of quality, design, craftsmanship and customer service. In the custom-built motorcycle world, the same can be said about Misfit Industries. So it was a natural fit for the two companies to collaborate on a custom ring that will be given to every new owner of a Misfit Industries motorcycle.
Misfit Industries was born in Magnolia, Texas in 2007, and relocated to Dallas in the spring of 2013. They currently have 15 employees working in management, design & development, fabrication, manufacturing and administration. Their business philosophies are to be on the forefront of innovation in the motorcycle fabrication, accessory manufacturing and apparel marketplaces, while operating their business with the utmost integrity and ethics. They create and fabricate the motorcycles of people's dreams, but more importantly build them as rideable machines that are reliable—their customers can ride them with confidence and pride.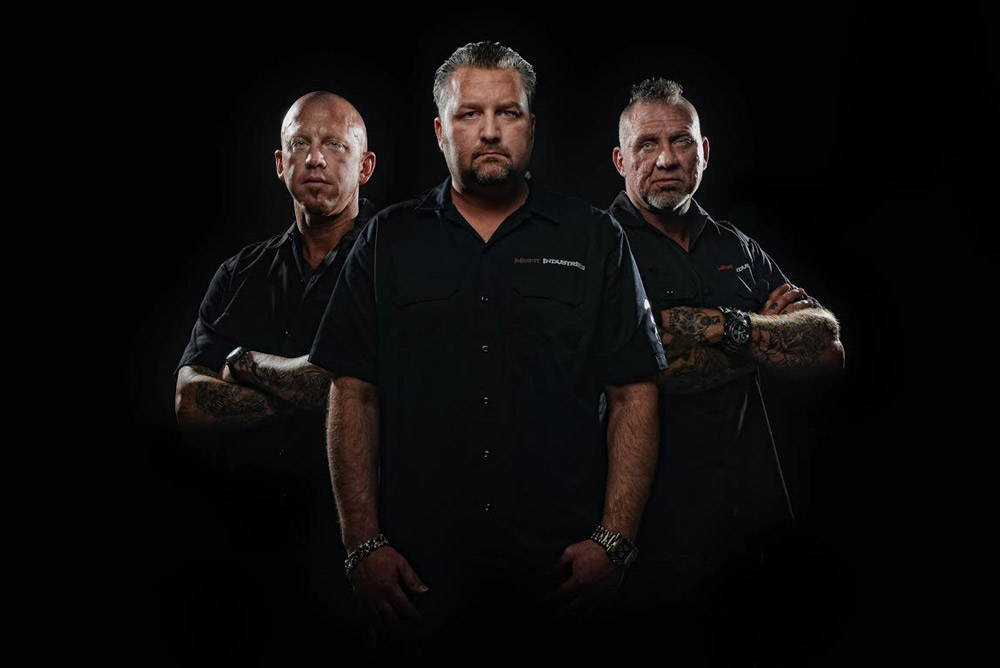 (L to R) Aaron Grohn, Vice President; Chris Eder, President; Derek Daku, Secretary/Treasurer
Being Misfit Made means to be made, built, fabricated, manufactured, and honored to the highest degree of impeccable quality and performance. To own a Misfit Made machine defines you as knighted into an exclusive club of owners who know quality when they see it. A misfit is defined as "a person whose behavior or attitude sets them apart from others in an uncomfortably conspicuous way." Society normally associates this negatively; however they pride themselves at being misfits, but in a positive reflection of the term.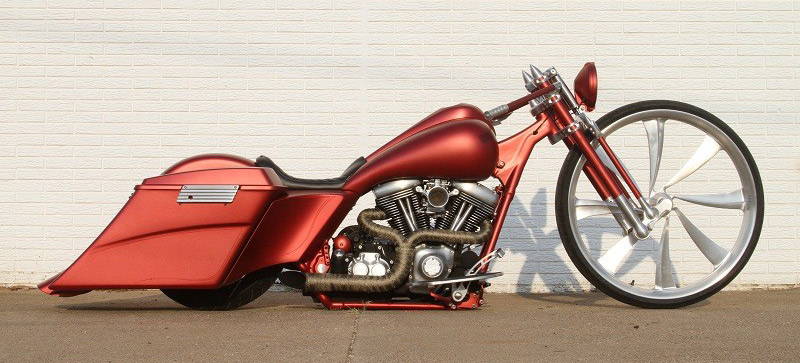 We asked Misfit Industries' Vice President, Aaron Grohn, how they chose NightRider to create custom rings for their customers. He told us, "My wife and I first heard about NightRider Jewelry several years ago. I have several pieces of their jewelry in my personal collection. It is through these past dealings that I had the automatic trust to contact NightRider to complete this project of designing custom jewelry for us."
"For this ring design, we wanted to incorporate the history of Misfit, which is why we utilized our original recognizable logo mark "M" with the crown above on the face", he added. "We also wanted to portray the message that being "Misfit Made" is of the highest quality, performance and integrity—this is inlaid on the top and bottom side of the ring design. The designs on each side of the ring are composed of a griffin. The griffin is made up of the body, tail and back legs of a lion, the head and wings of an eagle and eagle talons as the front feet. Because the lion is traditionally considered the king of all beasts and the eagle is considered the king of all birds, the griffin is thought to be the king of all creatures. Griffins are known for guarding treasure and priceless possessions. The griffins on the ring, in their representation, are guarding both the ring itself as well as the Misfit logo mark; the king of all fabricators and manufacturers. Inside the under gallery of the ring is a message, 'Elite Custom Fabrication'."

"We are offering this ring design exclusively to our customers for whom we fabricate a custom motorcycle", Aaron continued. "We set the standard and build the highest quality rideable motorcycles in the industry, and we want to offer a symbol of appreciation to this exclusive club of individuals. This ring will be recognizable to the public, and even when our remarkable customers are not riding their Misfit Made motorcycle, others will know how they roll and what they roll on."
Nick Ballantyne, NightRider's Lead Designer, explained how he approached the project. He said, "The challenge with designing a ring for Misfit is that the ring had to match the powerful visual impact that their bikes and brand as a whole deliver. They gave us their trademark M with the crown, the back-to-back griffins, their brand slogans, and told us to wrap all of these elements into one massive statement of a ring. My aim was to stay true to these elements, but also give the ring itself a very mechanical feel to reflect the precision manufacturing that their brand is built upon."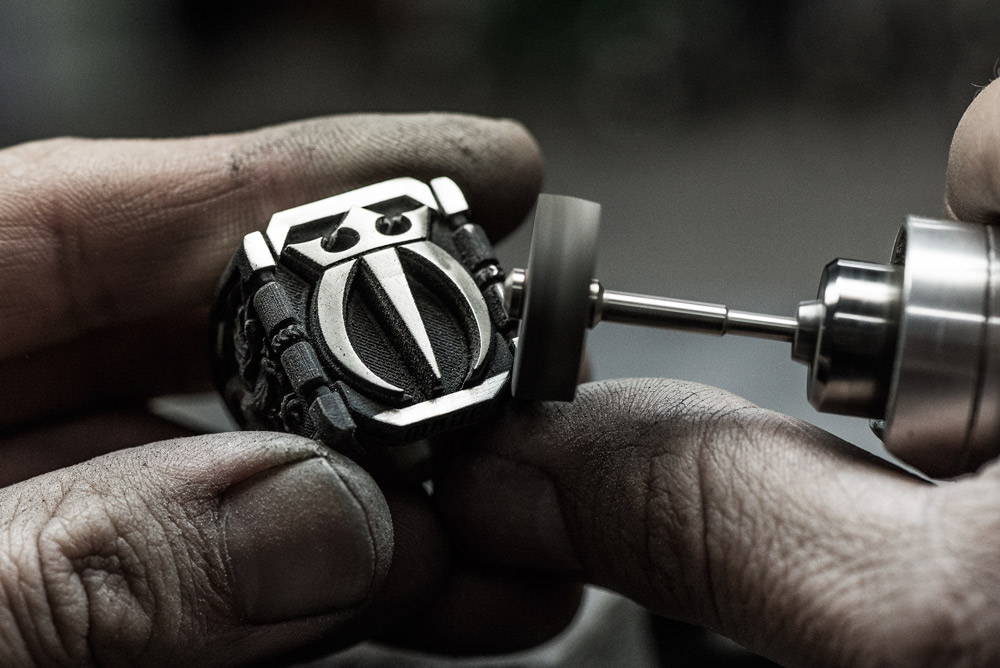 He added, "That presented a fun challenge; I had to take old world elements like griffins and a crown that are typically very ornamental and medieval looking and incorporate them into a concept that speaks more to who Misfit is—a top notch custom bike builder. It was fun, though, because these guys really are artists themselves; they just work in a different medium than I do. It felt more like a collaboration with fellow artists than it did just designing something out of the blue. They have a really great style already established, so it was pretty easy to work with. When I saw the first ring all freshly polished up and ready to go, I was ecstatic with the end result. I can guarantee one thing; nobody is going to mistake these as a cheap token to go with their bike. This ring is going to deliver every bit of the jaw dropping statement that you would expect from the guys at Misfit."
Now that Misfit Industries has their hands on the rings, we wanted to know what they think about the end result. Aaron told us, "Our experience has been great working with NightRider. Bryce was very responsive and knowledgeable. I think that NightRider portrays the same image of quality and design of product in the jewelry marketplace as Misfit Industries holds in the motorcycle marketplace. Our respective industry reputation and objectives are in alignment with one another. The quality of NightRider's workmanship and the finished product is like no other."