NIGHTRIDER JEWELRY UNVEILS THEIR LINE OF LIMITED EDITION
SWISS AUTOMATIC WATCHES

Redefining Luxury for Those Who Know the Value of Freedom

Chandler, AZ – November 1, 2019 – NightRider Jewelry, an American crafted luxury jewelry brand, announced today the release of their exclusive new line of Swiss automatic watches, each a numbered limited-edition work of art.
The series is a culmination of over three years of intense research, iterative development, and an unflinching commitment to producing a top-to-bottom American original. To meet their stringent quality standards and maintain the brand's trademark aesthetic, every silver element is handcrafted and finished in-house, including parts often overlooked by other high-end watch manufacturers. Case in point: both the watch buckle and keeper were wholly designed by NightRider, then cast and hand-finished by NightRider's own master jewelers.
So, what happens when European refinement and American individuality collide? A redefinition of luxury and what a fine Swiss timepiece can be—and for whom. These watches are meant to be seen and noticed. Each watch is both true to its NightRider heritage—a big, bold statement piece—and thoroughly luxurious in its execution.
Owner and Head Designer, Nick Ballantyne, gives his take: "This challenge called us out long ago. There are so many exceptional timepieces out there, but none of them speak with the artistry and attitude we crave at NightRider. We're determined to take that feeling you get when you wear a Swiss auto and arm it with a powerful voice. Exceptional craftsmanship is just the beginning. It has to tell a story. It has to have a soul."
AMERICAN MADE
Never mass-produced, NightRider's commitment to small-batch handcrafting in the USA extends to all their creations, including their limited-edition watches. Available in four solid sterling silver dial designs—including the Chief, Rose from the Dead, Sheepdog, and Guardian—in either .925 sterling silver or black coated .925 sterling silver. Case options include polished stainless steel or black DLC coated stainless steel.
LIMITED EDITIONS
Every NightRider Limited Edition watch is an authentic Swiss-made timepiece with genuine NightRider hand-finished .925 silver elements, made in the USA, and is strictly limited to 100 numbered units of each dial and case color combination.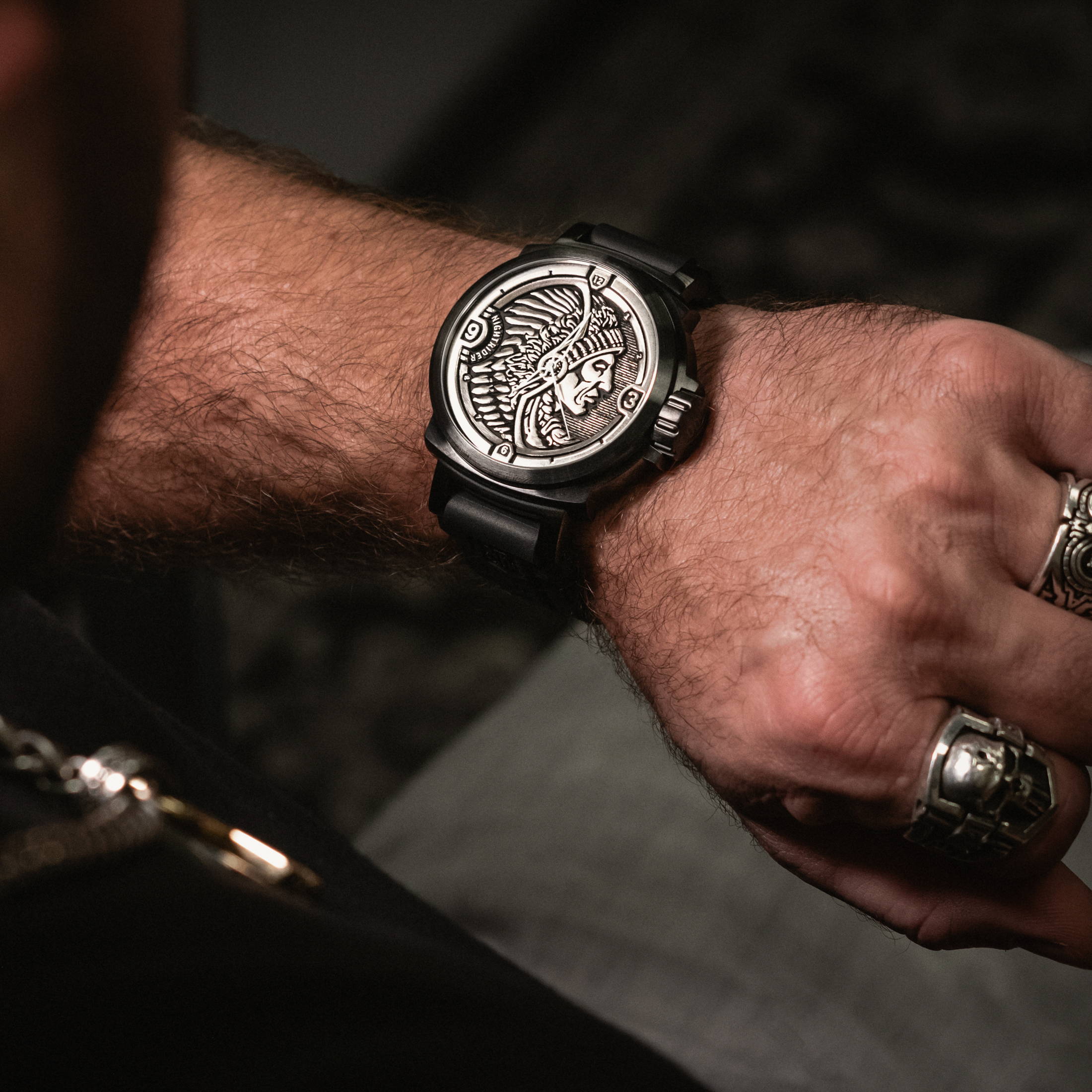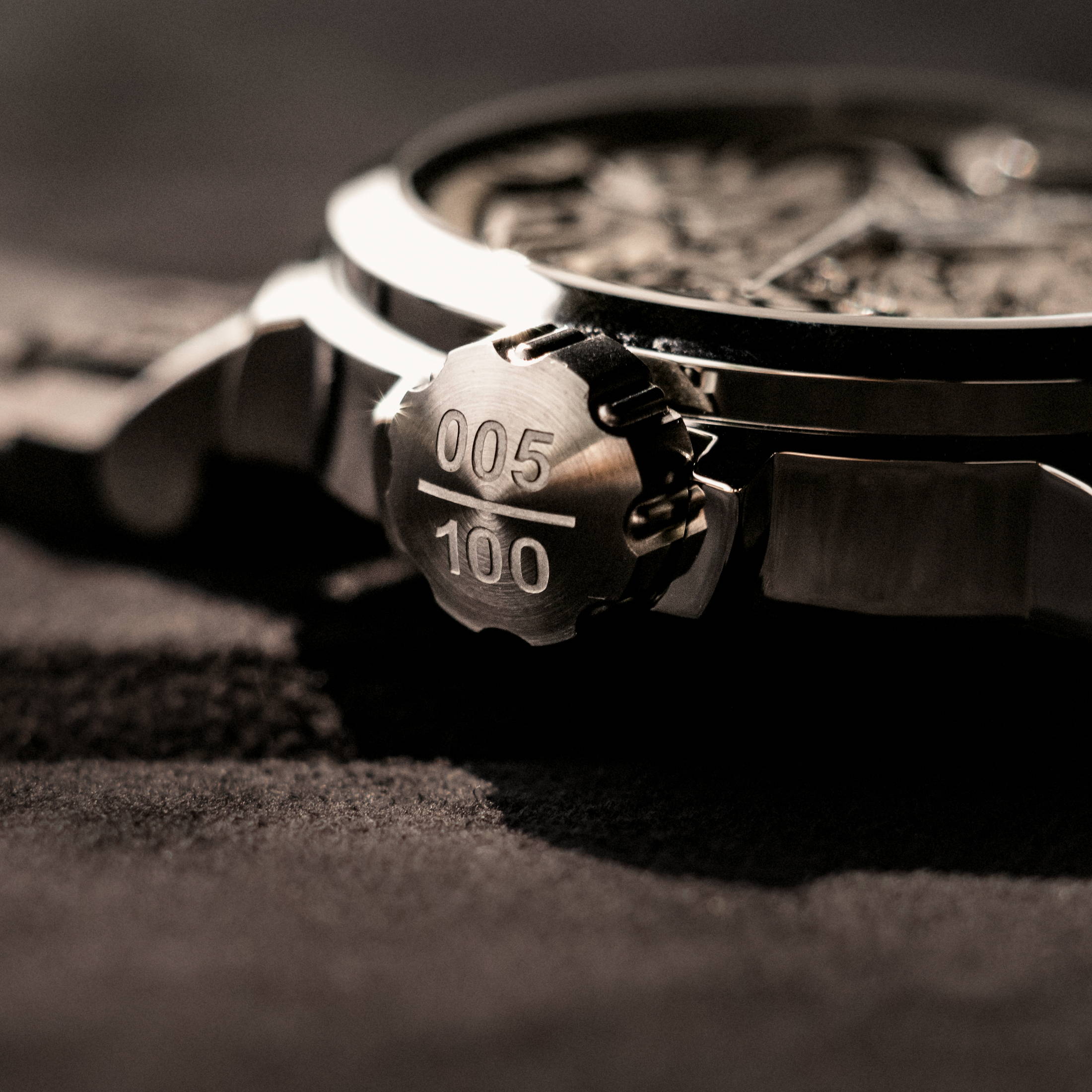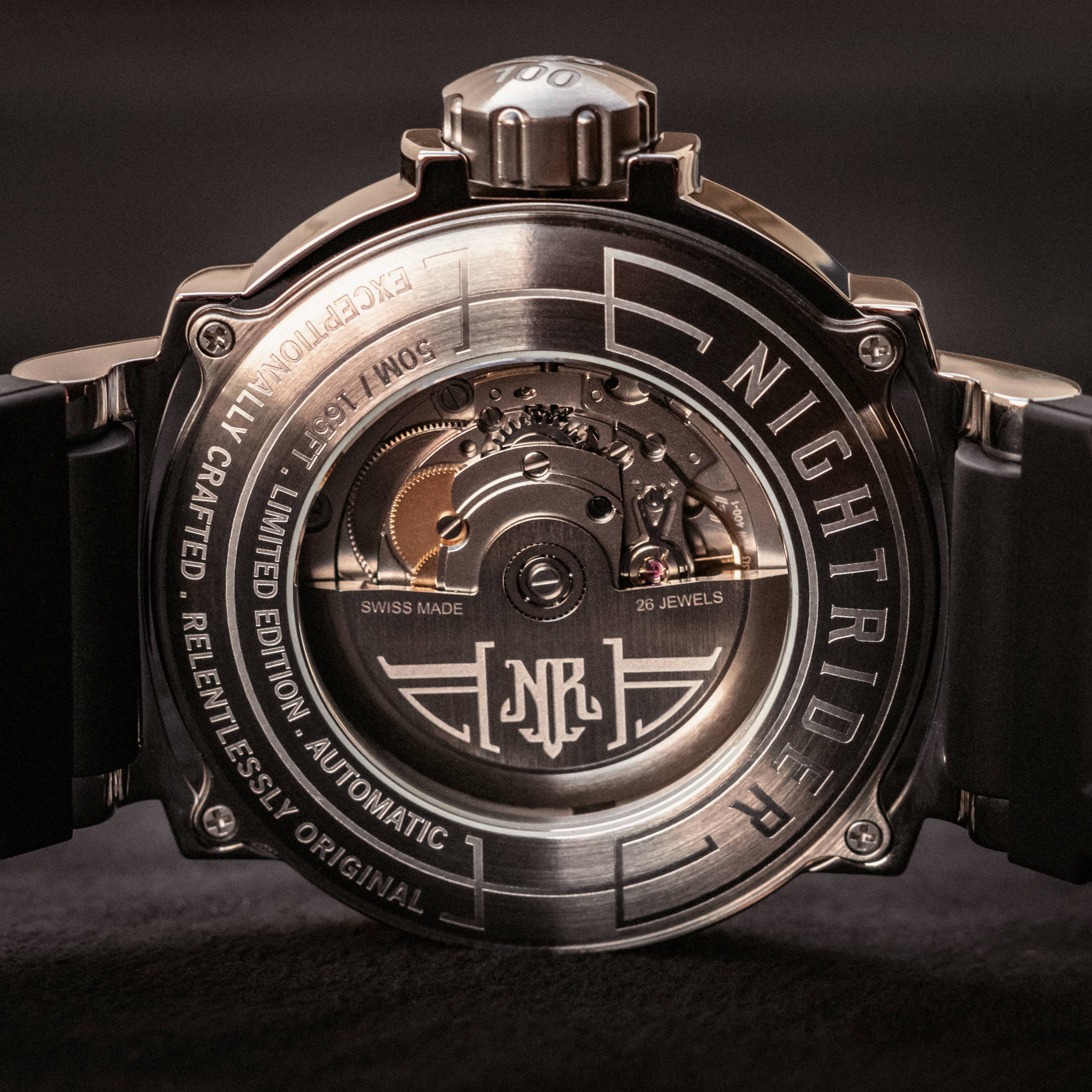 SPECIFICATIONS
Movement: Swiss-Made Sellita SW 400
Driving System: Automatic
Power reserve: 38 Hours
Frequency: 28'800 Vibrations Per Hour (4 Hz)
Number of Jewels: 26
Dial: .925 Sterling Silver or Black Coated .925 Sterling Silver
Case: 316L Stainless Steel or 316L Black DLC Coated Stainless Steel
Diameter: 50.75mm
Obverse: Sapphire Crystal Front
Reverse: Sapphire Crystal Exhibition Back
Water Resistance: 50m
Strap: Premium Quality Molded Silicone
Buckle: .925 Sterling Silver
Keeper: .925 Sterling Silver
Loop: Premium Quality Molded Silicone
About NightRider Jewelry
NightRider Jewelry was founded in 2006 with the idea that jewelry could do better. Be made in America. Created by hand. Brought to life by true artisans. Designed with passion, attention to detail, and pride so that every piece is imbued with true meaning and given a soul. With three retail locations in Scottsdale, AZ., Denver, CO., and Honolulu, HI., in addition to the online store, the company is proving that true American handcrafting is alive and well. For more information, please visit: www.nightriderjewelry.com
Contact
NightRider Jewelry
hmannion@nightriderjewelry.com
instagram.com/nightriderjewelry
facebook.com/nightriderjewelry
twitter.com/NightRiderAZ