Nov 28th 2019
Holiday Gift Guide
We get it. Gift giving is tough. Where do you even start? We'll let you in on a little secret: the truth is that great jewelry is never the wrong choice. So take a deep breath... and check out our Holiday Gift Guide. It's the essential cheat sheet for amazing sterling silver jewelry gift ideas. Whether it's for your best friend, the love of your life, or Mom and Dad—you'll find the perfect piece for just about everyone on your list, whatever their style.
---
RINGS
Exceptional men's rings don't just look good, they have meaning. Give him a ring that says something about who he is, and he's sure to love it.
---

PENDANTS & CHAINS
A man wearing his signature necklace conveys both his life experience and authenticity. The perfect pendant and chain will tell his story.
---

BRACELETS
Whether he wears them solo or stacked, every bracelet makes an impression.
---

BUCKLES & BELTS
The ultimate men's accessory, the right belt and belt buckle are an essential staple that every man should have in his wardrobe.
---

CUFFLINKS
There's no question that these bold men's cufflinks will stand in a crowd—just like he does.
---
---
RINGS
She'll love these bold rings, because something doesn't need to be delicate to be beautiful.
---

PENDANTS & CHAINS
Whether she's your queen or you're her guardian angel, a pendant and chain will always remind her of you.
---

BRACELETS
From a striking cuff to a distinctive fine chain, these bracelets will be on her wrist more often than not.
---

BUCKLES & BELTS
Our belt buckles are bold—just like the women who wear them.
---

EARRINGS
Everyone knows that good things come in small packages.
---
Every NightRider piece is handcrafted in the USA and comes packaged in a premium gift & storage box, which includes a protective pouch & polishing cloth, so your gift will look exquisite for years to come.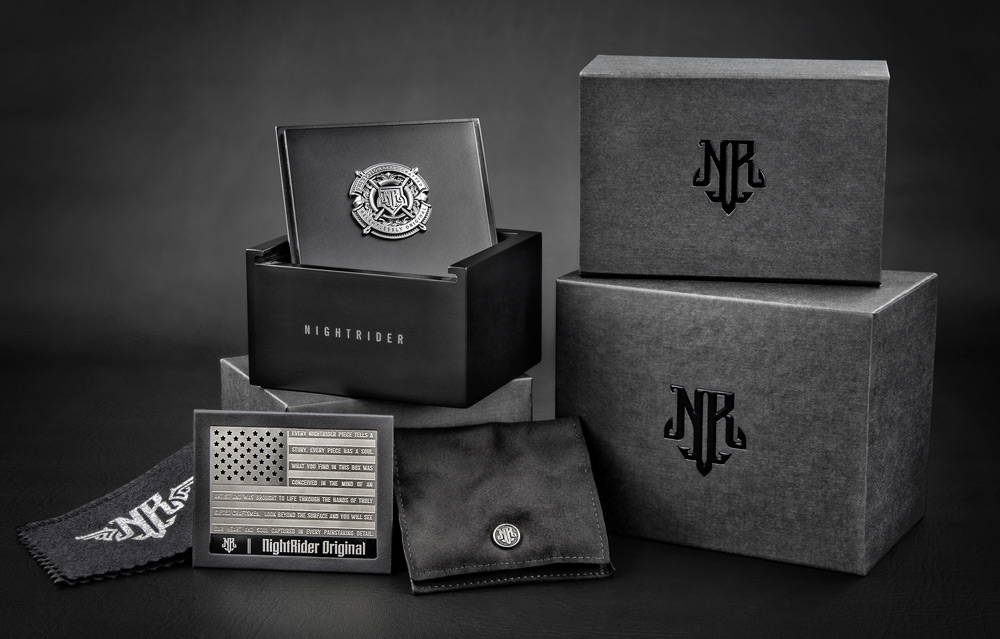 Orders over $150 include Free Ground Shipping within the continental US!
For more gift ideas, visit our online store or stop by one of our retail locations to experience the collection up close and personal. We know you'll feel the quality in the heft of our items. Plus, we've got additional in-store gift ideas that aren't available online.
NightRider jewelry isn't just a great gift—your purchase supports American artisans and jobs. The entire NightRider team thanks you, and we wish you and your family a happy and safe holiday season. Merry Christmas!